JUST BECAUSE WE WENT AWAY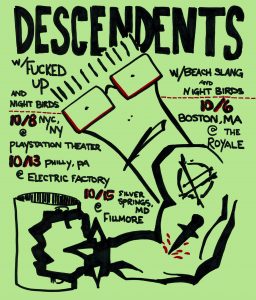 Night Birds are playing shows with the DESCENDENTS! Can't tell you how excited we are about sharing the stage with a band who was a total game changer for each of us.
You can catch Night Birds on ALL(!) 4 shows of the East Coast "Hypercaffium Spazzinate" tour this October, including NYC, Boston, Philly, and Baltimore. Stoked. See you there…
PS. Amanda Gorsegner was kind enough to sketch this bad boy up for us with the OK from our main man Chris Shary. Thanks Amanda & Chris.
Thu. 10/6
– Boston, MA @ The Royale w/ DESCENDENTS, BEACH SLANG, NIGHT BIRDS
Sat. 10/8
– NYC, NY @ PlayStation Theater w/ DESCENDENTS, FUCKED UP, NIGHT BIRDS
Thu. 10/13
– Philly, PA @ Electric Factory w/ DESCENDENTS, FUCKED UP, NIGHT BIRDS
Sat. 10/15
– Silver Spring, MD @ The Fillmore w/ DESCENDENTS, FUCKED UP, NIGHT BIRDS